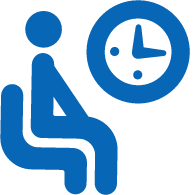 Advanced Treatment Process
Our treatment helps to stop the craving or desire to smoke so you find it much easier to stop and break the habit.
The treatment method is very different to the usual talking therapies and is clearly the most successful method to help stop smoking. As there is no margin for error in our treatment processes we can guarantee every client will receive the exact same treatment program (tailored to their brand) therefore our results consistently out perform any other therapy or stop smoking products.*
Our treatment works by using physics to 'neutralise and detox the effects of nicotine' so it's much easier to stop smoking, the only contact required is via two wristbands. It is safe, painless and works very quickly to help you:
Stop Smoking
Stop Smoking Cannabis
The Best Results
All other treatment methods to help people stop smoking achieve very low success rates as they use 'slow and out-dated methods' such as talking therapies or daily medications (patches, gum, drugs) which don't work for most people or most of the time.
In contrast, over the last 14 years we have helped over 5,000 clients the stop smoking with excellent results as each client receives exactly the same treatment program tailored to their brand.*
How it Works
Our technicians took a basic principle in physics and applied it to new areas to help stop smoking. Our treatment method uses specific phase signals to help:
neutralise any substance and reduce physical tolerance
It is a scientific fact that every substance including nicotine has a specific e-signal (kHz) and opposing signals neutralise/cancel each other out. By using a proven scientific process it is possible to 'neutralise & erase' the effects of nicotine so it is no longer 'active' which then helps to stop the physical and/or mental urge, craving or desire for it.*
For example: The [+] phase e-signal of the substance (nicotine) is already in the body, our equipment emits the equal and opposite [-] phase e-signal 'causing its effects' to be neutralised or cancelled out.
How does this help in a practical sense?
Put simply, we are neutralising the unwanted substance. When the substance is neutralised or 'inactive' it is much easier to stop smoking as the physical urge, craving, need or desire has 'gone or is greatly diminished'. As you can see from our client feedback, each client agrees they then found it much easier to stop smoking and break their habits.*
Quick & Safe: Treatment takes 1 hour, is very relaxing and produces instant results.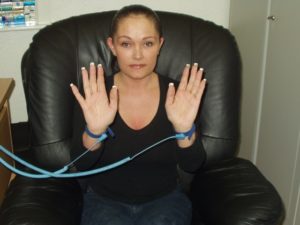 The treatment process takes one hour, is painless, relaxing and very effective.
Clients attend their appointment and complete a customer detail form, after which they are taken through to the private treatment room and are connected to the equipment with two wrist bands as shown above.
We then discuss the treatment process in more detail and answer questions in relation to the treatment, clients can then read, chat to friends or simply relax. Towards the end of the appointment, we discuss the aftercare instructions and go through what the client can expect over the next 24 hours and beyond. 'Simple treatment process, the best results'.
Stop Smoking
No other Stop Smoking method [Hypnosis, NRT, NHS, Willpower] has more client feedback or better results.
'I came from Essex to your clinic in Manchester on the 4th January 2006. I was very sceptical but I made sure that Christmas and New Year were out of the way before coming and sat in a pub round the corner smoking as many cigarettes as I possibly could. I started smoking aged 12 years and I was then 60 years and had tried everything from hypnosis to patches to filters without success. The weirdest thing happened – I walked out of your clinic and have not touched a cigarette since or even desired one and it will soon be 10 years. A couple of friends came to your London clinic last year, one of them being a 40 a day girl and neither of them has smoked since. Incredible. I recommend you highly. Regards'. Kay Morgan*
'I left your London office at 6pm on Friday. If I was going to break, it was coping with rush hour traffic and didn't even search for a fag. I've smoked for 43 yrs and puffed cannabis for 26 years, whatever is making me feel like this, I never want it to stop'. Terri*
'I am a very happy non-smoker for 7 years now, thanks to your treatment. You changed my life. Very contented previous customer. Many thanks. L West*
'I was treated in your London office in 2007 and have never smoked since. That's 7 years now and I had tried everything. It worked for me'. Guy List *
'I used you 4 years ago and have stopped smoking ever since'. Jamie H*
'My wife and I came 6 years ago to stop smoking. Since then neither one of us has touched a cigarette or had a craving to do so. Prior to the treatment I had tried to stop smoking using patches and gum but had failed. This treatment changed our lives, the only thing I regret is not doing it sooner. The treatment made it easy as there was no craving at all to smoke'. Paul O.*
'I was 14 when I began to smoke. 48 years later and was approaching 40 cigarettes a day. I attended the stop smoking treatment in August 2010 and haven't smoked since. I have now stopped. This is entirely due to your treatment. Many Thanks'. Mike B*
'I attended the clinic for stop smoking treatment in October 2010, I found the staff very helpful and friendly and the process very relaxing. After treatment I found my cravings for nicotine had completely gone, I didn't need or desire a cigarette, I instantly felt cleaner and healthier and proud to call myself a non-smoker. Now over 3 years later I still boast the 'non-smoker' title. I would recommend this treatment to anyone, well worth the money!. Paula Lewis*
'It's now coming up to 3½ years since I visited the London clinic to stop smoking. Very wary and sceptical at first but I was utterly amazed to leave there with my cravings absolutely gone.  I'd smoked on average 15-20 per day for around 40 years so this was truly something momentous in my life. I'd like to thank all the crew at the stop smoking center. I have referred many people since 2012 and will continue to do so, and look forward to celebrating 4 smoke free years on 20th April, 2016'. David Pickles
'I thought I would let you know I have not had a cigarette since my treatment, :o) and all is going well. So thank you very much for the treatment!!!'. Lee*
"I received the treatment one month ago and I have not touched a cigarette since nor have I felt any cravings.  In addition, I HAVE NOT PUT ANY WEIGHT ON during this period (in fact I lost some!). This treatment is really effective and keeping off cigarettes is almost effortless.  Thank you". Regina W.*
'Well, here we are! Did I ever think I would write this? No, I didn't.  But I did promise faithfully to keep everyone in touch with my progress. I posted after 6 weeks of not smoking, and after 6 months, and here is the milestone. Today is ONE YEAR without a cigarette! Sure, there have been fleeting moments when a ciggy would have been almost eaten.  But, the body just does not want to. So, once again, many many thanks. A year without is now going to be a lifetime without.  I won't bore you all anymore until 2014. Then it will be 2 years. And counting! David Pickles *
'I had treatment from you 5 years ago and have still not smoked' N Davison*
'I thought I would let you know I have not had a cigarette since my treatment, :o) and all is going well. So thank you very much for the treatment!!!'. Lee*
'Hi, sorry I haven't been in touch for a few months (5 actually) this was due to a couple reasons. Firstly I lost your email and second I wanted to see if it really worked. You'll be pleased to know I haven't smoked a cigarette during this time and I feel great. Nothing as worked before so I find it a little bizarre if I'm honest. I've probably saved in the region of £1000 so far all thanks to your treatment. Anyway, thanks for your help'.
Nick D*
'I received my treatment over 4 years ago and have not smoked since. More importantly I feel as though I have never smoked even though I was on 30 a day. It simply does not occur to me that I want or need a cigarette. I will also say I have had no problem been in the presence of other smokers. I highly recommend this treatment to anyone serious about quitting'. Mr Belheim*
'After having smoked for 30+ years and never wanting to stop during that time, in March 2012 I decided to stop. I researched numerous avenues for stopping and chose this treatment. Four weeks later I haven't had or wanted to smoke. There have been no cravings and I feel positive that I won't ever smoke again. I would highly recommend this treatment to anyone looking to quit'. Jayne Hopkinson*
'It has been 6 months since I last had a cigarette. I use to smoke 25 average daily and a hardened smoker. It was on my mind to smoke morning, noon and night, in work, holiday, going out always timing when to smoke to keep my nicotine levels up. My cousin had this therapy and gave up so thought nothing to lose, everything to gain. Sat for an hours treatment and have not craved a cigarette since. My family and friends were stunned. My daughter was so shocked having never known me not to smoke, she asked for the therapy herself for her birthday. She has been smoke free for 3 months. Maria Vaughan*
'Just an email to say thank you to you. I have quit smoking. Since the treatment 3 weeks ago I have not touched a cigarette and intent never to touch a cigarette again!!! I have passed your details to a couple of friends who I think will benefit from it. Thanks'. Yasar Z*
'Just a quick email to let you know that I have not smoked now for a whole week which is a very good achievement for me. Thanks for your support, I will up date you in a couple of months. Kind regards'. Samantha G*
'I am 50 years old and have been smoking non-stop for 40 years. I have not had a cigarette for 4 weeks. I feel so much better, no more coughing up and I can breathe much better. I now hate the smell of people who smoke as I can smell much better. I do get the odd urge for a fag but mostly it's in the mind. Believe me this therapy really works and I would highly recommend it'. Chris Lynch*
'I smoked for 18 years but have stopped for 18 months and have no intention of starting again. I know the treatment works - you need to spread the message'. Jamie H*
'I was treated about 3 years ago and I have never had a cigarette since. I know about 20 other people who have used this treatment who it has also worked for. I would definitely recommend the treatment, it worked for me and I was smoking 15+ cigarettes a day, had tried everything and nothing else worked'. Gillian Walsh*
'OK on the 17th October 2009 I came all the way to Manchester for treatment & it worked. I still don't smoke nor want to. I haven't gained weight either which is what scares a lot of people who want to stop. Give this treatment a go it will SAVE your life'. Derek Swan*
'After trying other treatments patches, hypnotherapy etc with no luck, I thought I would try this detox treatment since I smoked up to 60 cigs a day and after the 1st treatment I never had any cravings. Amazing'. Andy Smith*
'I was smoking 8 to 10 a day, had first session which stopped the cravings immediately. On a night out three weeks later without smoking I had 3 to 4 puffs but didn't start smoking, here for a top-up just in case four weeks later. If you want to give up the treatment does help'. J Sand*
'It is now a whole year since I came to see you and Yes I am still not smoking. The time has really flown by. Thank You'. Linda*
'I attended the Manchester clinic 2 weeks ago and haven't smoked since. I have been a smoker for 45yrs I was really hooked on fags. Please if you have tried like me and failed many times this is the best thing I have done. The Manchester clinic was fantastic, thank you once again'.
Rita Lawson*
'I've still not touched a cigarette since I came to you which I think was two years ago last November. Can't thank you enough'. Jacquie C*
'Well, here we are as promised. I came to the centre on 20th April 2012 and immediately ceased my 20 per day habit that started as a 14 year old in 1969. I posted after 6 weeks and said that if I still hadn't smoked after 6 months, I would post again. Guess what? I haven't smoked for 6 months from today. Strangely enough, I still get the odd urge to have a fag but within 2-3 seconds the craving has gone and then I go probably the rest of the day without thinking of them. All in all, I'm looking forward to Apr 20 2013 to come back here and pronounce that it's been a whole year since I partook of the weed, and have no wish or desire to take it up ever again. Thank you to all who have helped to give me a different start in life'. David P*
"I was on 60 cigarettes a day for approx 30 years. I had tried cutting down, nicotine replacement therapy, hypnotherapy etc. but none of these worked. I came to the clinic and had 1 treatment, although I didn't immediately stop, it cut me down to 15 a day. I had a free 2nd session and haven't smoked since and have no more desire to smoke. It has saved me about £320.00 a month and I now feel a lot healthier. I haven't smoked for nearly 2 years, I've saved over £7,680.00 and I know I will never smoke again". Simon Rowe*
and many, many more....